Strength Comparison
Nigel Richards's prowesses in the endgame are well known in the community. However, we are not aware of previous attempts to quantify Nigel Richards's strength in the endgame. We do so here.
In the following table, multiple statistics are given for:
Nigel Richards
Championship Player of Quackle v1.0.4
Nigel's opponents that have been rated in the TOP 10 at some point in their career according to the WESPA or NASPA ratings
The statistics cover all English dictionaries except the old TWL98 and SOWPODS. That is to say, they cover the period from 2006 to 2020. French dictionaries have been excluded. Moves where there was no playable word, i.e. where the player was stuck with tiles, have been excluded. Finally, the statistics for Quackle have been restricted to the moves that Nigel played to get an exact comparison between them.
Disclaimer: these statistics can only be as accurate as data at the sources. Some of Nigel's errors are definitely suspicious and we would greatly appreciate if you contacted us at francis@ortograf.com in case you had proof of inaccurate move transcriptions.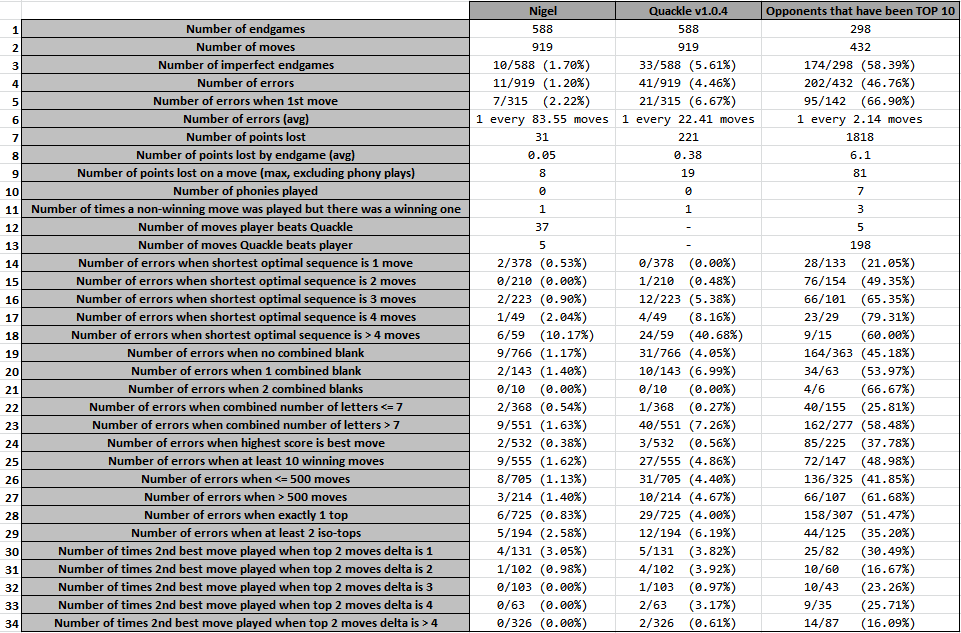 The gap between Nigel, Quackle and the Top 10 is obvious, giving Nigel a sure advantage over others in the endgame.
Download the raw data in Excel format to generate your own statistics.
Return to Nigel Richards' endgame analysis
Return to home page